VIDEO SURVEILLANCE SYSTEMS OFFER
CARPAT GUARD offers video systems for the RESIDENTIAL and COMPANIES segment
The surveillance camera installation service is in high demand because in recent years the demand for video surveillance systems has increased rapidly due to the need for security of individuals and legal entities.
The installation of a video surveillance system can save you from great inconvenience, the identification of a potential intruder is made immediately after the crime or even in time, if the video cameras are connected and monitored remotely by the video dispatcher CARPAT GUARD.
It is essential to turn to professionals for the installation of these systems as it is prohibited by law to install unlicensed surveillance cameras.
Installation and configuration of the video systems is done by CARPAT GUARD's own technicians, approved and certified according to the legal regulations in force.

Video surveillance systems have become, over time, key components for ensuring safety and security for individuals and organizations.
Moreover, the remote VIDEO MONITORING services for companies, replace the security agents, because they generate superior security parameters in real time with much lower costs.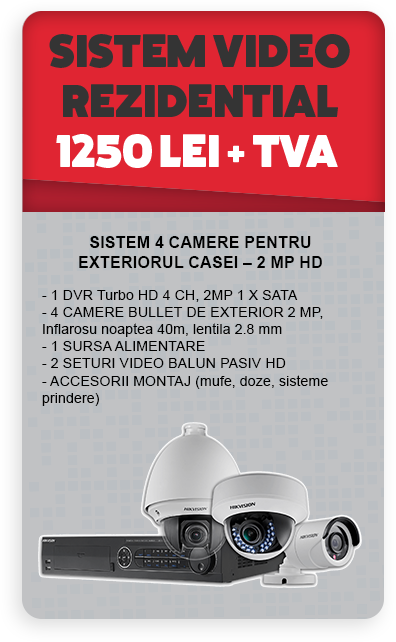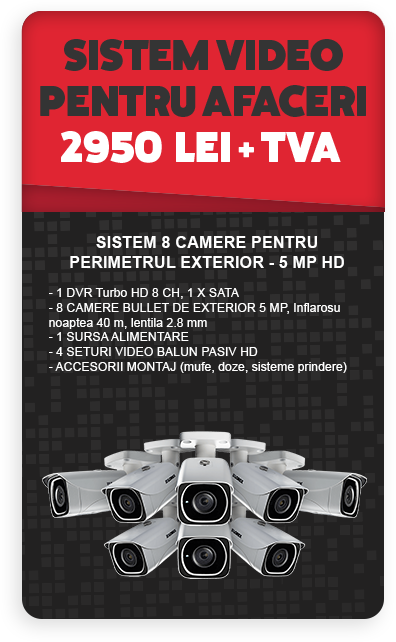 We can offer you a complete range of surveillance systems for your building and business, both interior and exterior in various configurations and technical specifications at the best costs.
You can access the video cameras on your mobile phone via the internet.
For the residential segment, these systems complement the alarm systems with motion/burglary sensors that are installed in your home.
For business, you can opt for VIDEO MONITORING remotely generating superior real-time security settings at much lower costs.